Functional core and strength training for every body
Mat & Reformer Pilates Classes are a dynamic integrated whole body workout strengthening the core, lengthening and stretching muscles, building endurance and flexibility, creating fusion with our mind and body and increases overall energy and vitality. Pilates can also reduce / remove back pain and support rehabilitation from injury.
The benefits of Pilates are enjoyed by everyone from beginners through to elite athletes.
Personal training supports your body to achieve fat loss and weight management by creating long lean muscles , improving energy levels, reducing stress, building self – esteem and targeting sports performance. A 1 hour session includes a strong warm up, full body workout and a full body stretch with relaxing shoulder massage to finish. Sports Nutritional advice and support is offered at each session.
Sculpt long, lean, strong muscles with this energizing, dynamic group class designed to challenge and change your body – no dance experience required. Total Barre blends pilates, dance, cardio and strength training specifically challenging arms, legs and core to strengthen and lengthen the body.
This class will leave you feeling energized!
Qualified Personal Trainer | Classical Mat Pilates Instructor | Total Barre Instructor
 Stott Qualified Advanced Reformer Instructor | Stott Qualified Advanced Matwork Instructor | Stott Qualified Chair & Barrels Instructor
Certificate in Sports Nutrition
Annafit is Methven's premier Pilates and Fitness Trainer, focused on small group classes and private sessions.
Annafit provides Mat, Reformer and Barre Pilates Classes for all levels. Personal Training sessions are tailored to the individual's requirements. Sign up for a session of your choice to lengthen and strengthen your whole body.
Anna, the owner and operator of Annafit is a fully Qualified Classical Mat Pilates Advanced Specialist, globally recognised STOTT Trained Reformer and Mat Pilates Instructor, Total Barre Instructor and REPS registered Personal Trainer. I hope to inspire others to experience Pilates and Fitness sharing the benefits of movement supporting the body to maintain a healthier lifestyle
Fully Qualified Personal Trainer | Fully Qualified Les Mills BodyPump & BodyBalance Instructor 
Stott Trained Matwork Pilates Instructor | Registered with REPS  (Registered Exercise Professional)
Bachelor of Teaching Degree
I am so incredibly excited to work alongside Anna from AnnaFit with bringing you Pilates & TotalBarre.
I have a massive passion for supporting people whatever their goals maybe, for creating a stronger, healthier & loving relationship with themselves & their bodies! I believe health & fitness is a lifelong journey however doing that in a loving, happy, fun & sustainable way for ourselves at whatever part of life we are at.
I really look forward to meeting all of you wonderful people!
To create a positive Pilates environment for everyone, please ensure you have the necessary Pilate experience (i.e. Beginner Pilates) before enrolling for a Strength & Sculpt or Athletic Conditioning class.
If you are unsure or if you have an injury please contact AnnaFit first.
AnnaFit can also provide Body Assessments and 1:1 sessions to identify the ideal class for you to attend to ensure you benefit most from your Pilates journey.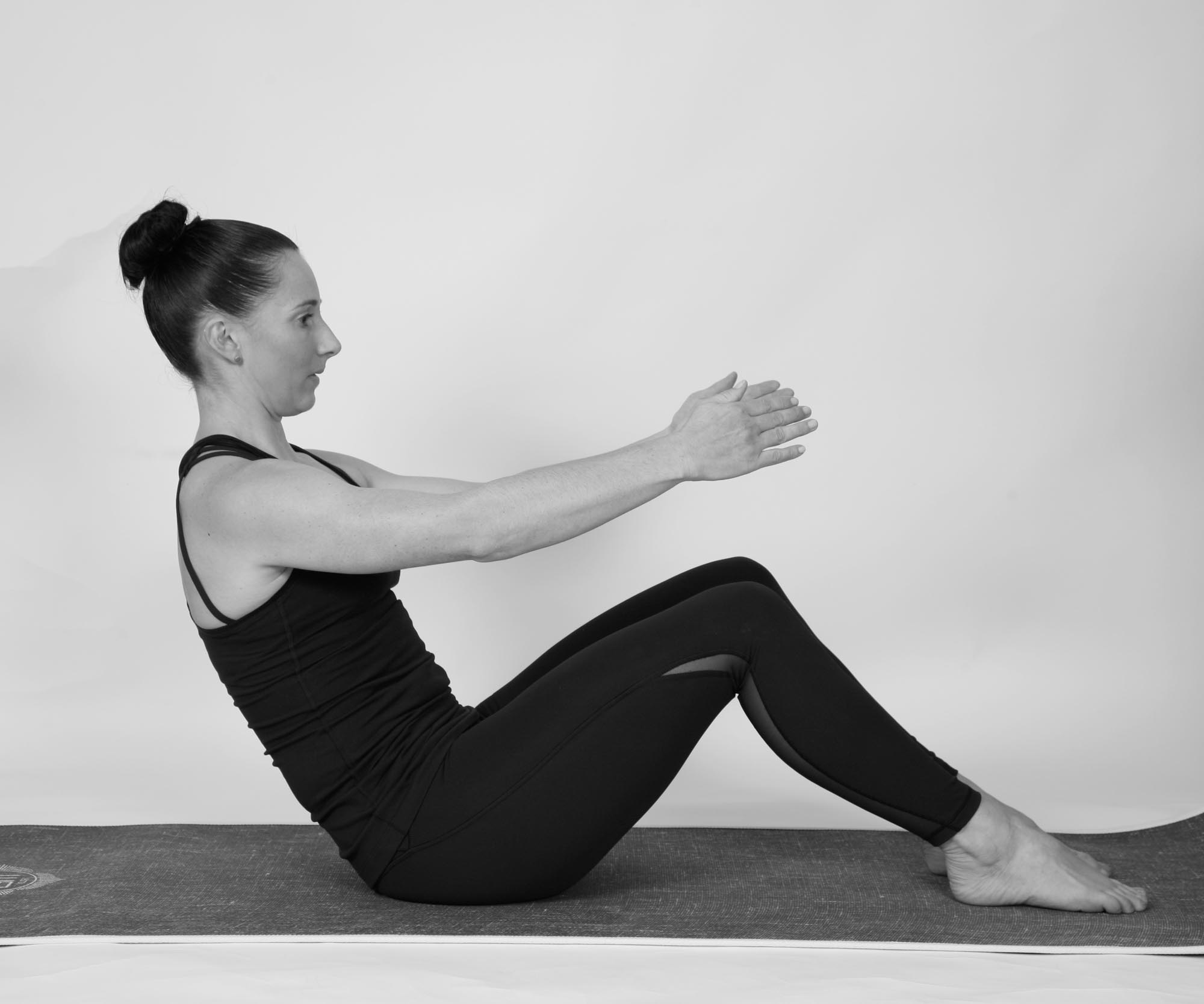 Introductory to Pilates
(compulsory for beginners,
alternatively book a 1:1 beginner session)
*Prior Pilates experience essential, if unsure or you are injured please contact AnnaFit before booking
A mixed level workout designed to challenge mind and body with props and increased flow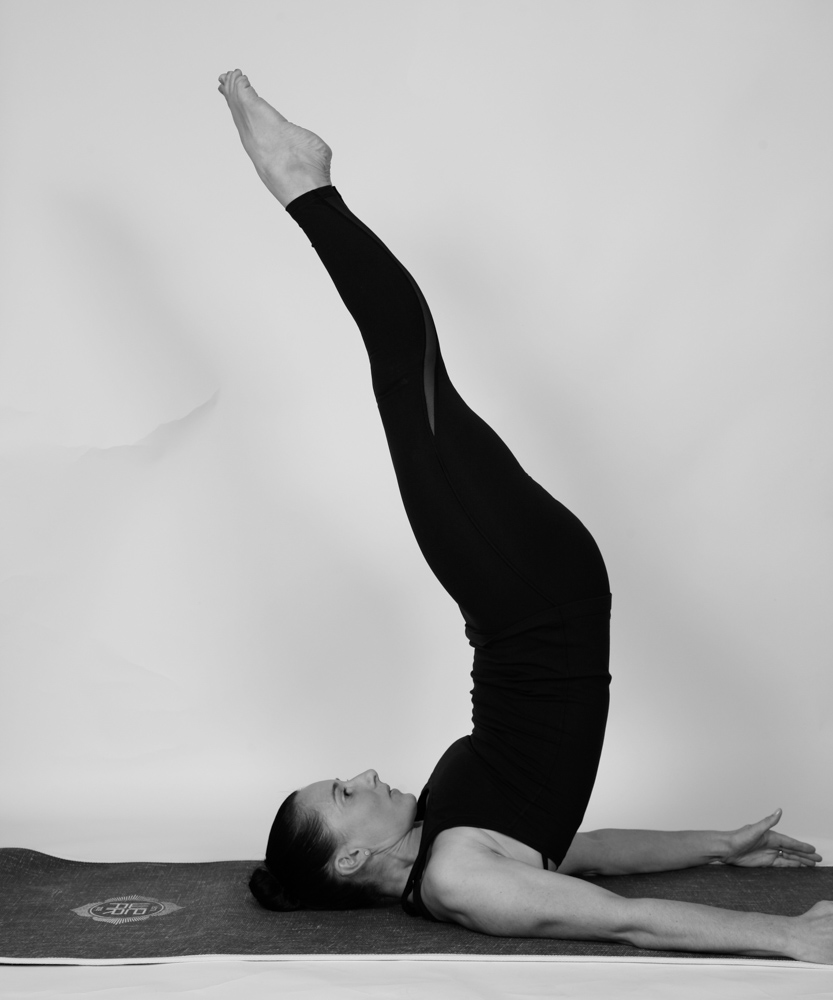 *Prior Pilates experience essential, if unsure or you are injured please contact AnnaFit before booking
This is an advanced workout, focusing endurance, challenging the mind and body with advanced movement patterns (not for the faint hearted – must have previous pilates experience)
Beginners and those new to Pilates must complete a Private Session (pricing below) with AnnaFit before starting any classes.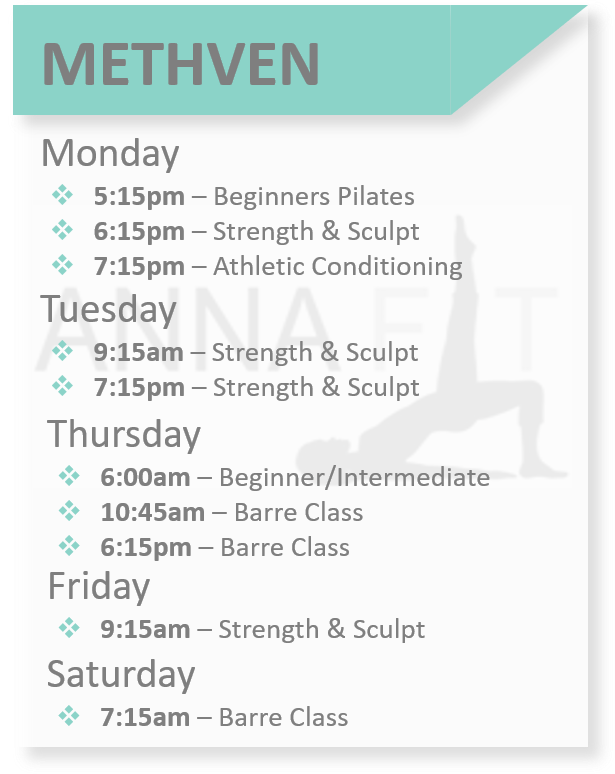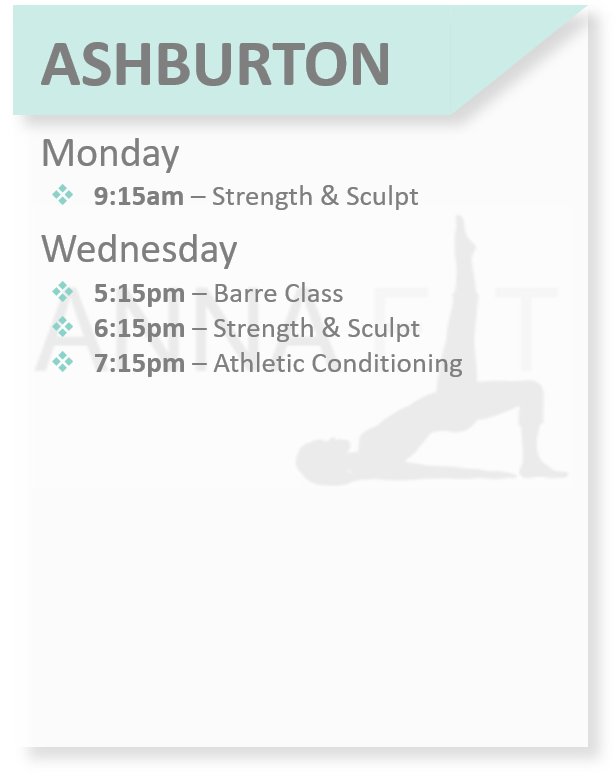 Annafit reserves the right to alter or cancel any classes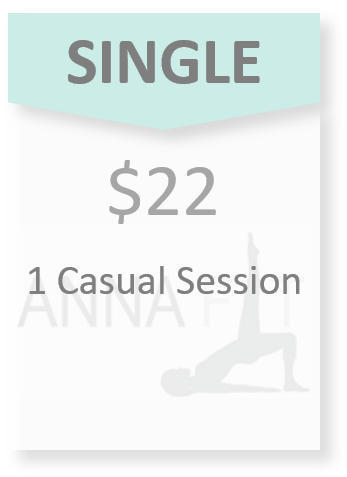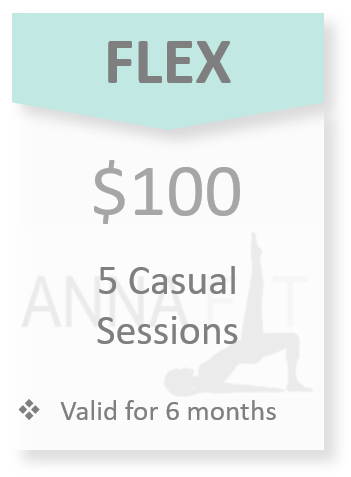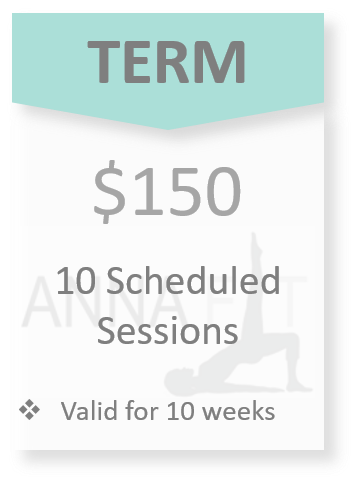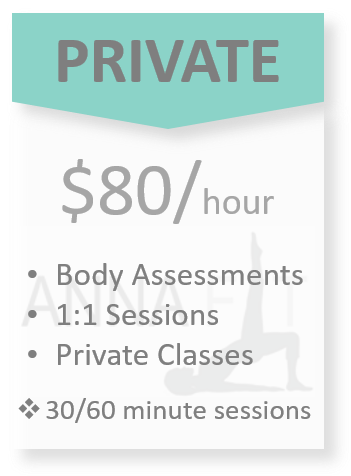 * Pricing as at 01/01/2020
Register For Classes Now!
Flow Pool & Studio – Methven:
131 Barkers Road,
Methven
Phone: 021 874 445
Email: studio@annafit.co.nz
Flow Website
Ashburton Studio:
Tinwald Catholic Church,
58 Thomsons Street, Tinwald
Phone: 021 874 445
Email: studio@annafit.co.nz